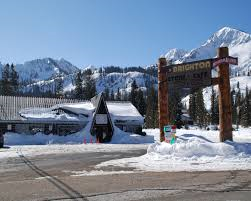 While staying at Solitude you are a short hop and skip from Brighton…or vice versa.  With 1,050 acres of skiable terrain, Brighton does little advertising because it really doesn't need to.  It is "found out" through word of mouth.  Trust me there is plenty to ski for all levels.  And no lift lines!
Brighton is a nicely laid out mountain with chairs and trails connecting you well for those grid skiers that want to ensure they ski the whole mountain.  Start on the main mountain at the Crest Express and work your way skier's left to attack the full mountain acreage except for the Millicent peak area on skier's right.  Save that for the end of the day as it is close to the parking lot and if you are booting up at your car this provides end of day convenience. Or, you can get back to the Crest Express and main base area from the Millicent peak by skiing the Majestic Access Canyon trail…careful toward the end of the season this may not be open.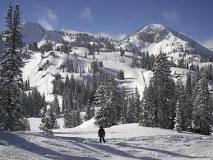 My ski day there was filled with sunshine and warm weather in March.  Trails while well groomed were fast and crunchy at first giving way quickly to the warm fingers of the sun's rays to soften the snow.  Unfortunately some of the tree trails and steeps were gnarly from the loss of snow and closed for safety reasons.  Poaching wasn't an option.  I'm betting some "freshies" on this mountain would make the closed acreage we experienced a ton of fun!
I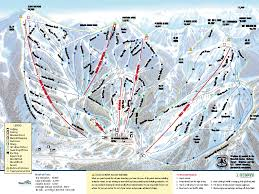 f you don't like to boot up at your car (I find this to be a very Western skier practice) there are great changing facilities and lockers in the main lodge.  After a great day of skiing we partook in some food and drink at Molly Green's… a tasty personal pizza and beers in a cozy original chalet style bar with good music playing in the background. We longed for a deck on which to eat and drink there and take in the last of the sun for the day.  For that a walk to the Alpine Rose Cafeteria would be required.
The vertical drop is 1,875 feet making it a great mountain for all levels.  They also have night skiing for those who can't get enough of day skiing or looking for a few turns after working in Salt Lake City.
Enjoy pictures in the gallery that are taken from the top of the Snake Creek Express chair at 10, 315 feet above sea level. Don't miss Brighton (www.brightonresort.com) if making a trip to Solitude for sure or vise versa.