Last month I wrote about how I first got into skiing when I was 16.  Lured by the coaxing of my best friend (we were trouble and fun together!) I rented a pair of skis and headed down Carlington Hill.  A pair of lace-up boots (that fit poorly) and a skinny pair of skis that towered over my 5'2″ frame (I have not grown) were my first experience with ski equipment and I STILL loved it!  Go figure!
When my parents realized this was my passion ( I was a "dancer" – someone else's passion!) they gave in and for Christmas bought me a package of skis/boots/poles – at Sears.  Wait – and a ski suit that today would be hilarious on the hill!  So I started my journey with Sears as  my specialty ski shop!
The lace-up boots covered me just above the ankles and were made for a girl with narrow feet…..that I didn't have and DON'T have.  You can imagine the pain, but complain – no never!  There were no alternatives!  The skis – as long as they got me down the mountain, I had so little knowledge and experience that I was good to go!  Boy have I learned so much over the years!
How do boots make a difference?  Well, everyone you ski with has an opinion and I love my ski-instructor friends but all share similar yet different ideas on boots.  And boy do they love to talk about it!  So what's a girl to do?  Find a boot-fitter – and I found Shon!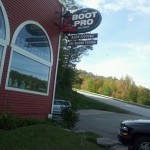 Shon and Alex Racicot are the proprietors of The Boot Pro.  You can find them at www.thebootpro.net and their shop is located at the base of Mountain Road in Ludlow, Vermont.  Full of experts on boot fitting, skiing, tuning and technology, their shop is one-stop shopping and no miss for your skiing comfort and performance needs.
Shon has been fitting me in boots long before he opened his own shop.  Let me share a few classic "moments" with Shon.  Once I came in with a pair of boots I bought on sale in a foreign country and after a few runs in agony I brought them to Shon to "fix" them.  He good naturedly worked on those boots for a year and finally said to me, "Cammy, if these boots were on sale in a foreign country, maybe they were meant to just find the right feet – and yours are not for these boots".  Lesson Number One – listen to Shon.
I didn't.  The next year while Shon was fitting me for boots I was looking for….slippers.  he said that I could get comfort and performance if I would just trust him.  Stubbornness prevailed: I didn't listen and went for the slippers.  What do you think happened?  In one year they were too big and my feet were sloshing in my boots by the end of the season.  Ever professional, Shon never said "I told  you so".  He just put me in boots I now love.  And because he has fitted me for years, when some carving of plastic is needed for my imperfect ankle/foot, he knows what needs to be done.  A fitted foot bed – a must!  Trust your boot fitter!
Next month I'll share some shopping tips on ski selection!  Until then – Cammy