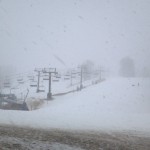 You know that Okemo is my home mountain.  This season (2012 – 2013) may have started out slowly but when March rolled around….well, winter went out like a lion!  Winter is not giving up to spring easily!
Temperatures were in the mid-forties last week and spring skiing was at it's best.  If you didn't get out early to feel granular give way to mashed potatoes by noon, you were working really hard in the afternoon!  Ever unpredictable, Mother Nature decided to drop the temperature in April.  Even the Groomer's had a February Flash-Back!
Some great skiing could be found on Heaven's Gate and Screaming Demon and of course my favorite fun of all time – War-dance!
My friends and I skied for 3 hours in temperatures that didn't get past the teens; wind howling at 20-30 miles per hour….definitely NOT April weather!  But don't despair – our fickle friend Mother Nature has a rise in temperature in store for us this coming weekend – just in time for Okemo's Slush Cup!  If you can get there on the 6th – the fun begins at 11 am.  Skiing will be great as the cool mountain temperatures are keeping the snow for us to enjoy well into April!
Top off your day of fun and excitement with a ride on the Timber Ripper!  Come visit Okemo this weekend!  See you there!