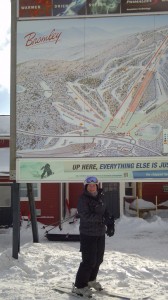 It's hard to believe, but there are STILL Ski Area's in my home state of Vermont that I have yet to ski!
With my BFF and her husband at my side, we set out on New Year's Day for a spectacular first ski of 2013!  Bromley is only 20 minutes from Ludlow and I was feeling energized with my knee repair – finally a non-event.  I'm not going to lie – a little weather related arthritis is the bane of my existence!   Regardless – it's time to catch up on my SkiSixtyForSixty program!!
I learned on this trip that Bromley has a great history to its beginnings.  The Bromley Mountain resort was founded by Fred Pabst Jr., the son of the famous Captain Frederick Pabst (Frederick was the founder of Pabst Blue Ribbon beer).  It is home to 46 trails, including 4 glades, beginner to expert, served by nine lifts. Bromley was once rated number one in family programs in all of North America by SKI Magazine.  Further fame – the Bromley Sun Lodge was featured on Hotel Makeover!
The mountain peak is over 3,200 feet above sea level.  It has some good vertical to keep you challenged.  The conditions were great and it was a beautiful, cold, windy day!  I learned it is a great family mountain with an active ski school.  Thanks to Curt Cowles we enjoyed discounted tickets!  Curt is a great asset at Bromley and is well known and respected in the local ski industry.  We had such a great experience that I hope I can help get more people interested in visiting Bromley Mountain!
The lodge has a great fireplace and upstairs the bar provides awesome southern views of the Green Mountains including views of Stratton and Magic.  Of course we had to have a PBR and while at the bar we learned that you can buy a reusable numbered mug!  Many hung above the bar indicating a good local following for the Mountain!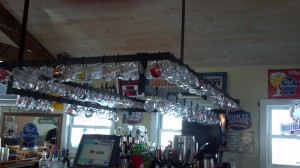 It is a southern facing mountain and has gotten tagged as Vermont's Sun Mountain.  Both the Long Trail and Appalachian Trail go over the mountain and it has many activities for summer fun as well. Visit Bromley's Mountain Slide and Zip Line and other summer activities. Bromley was one of the first Mountains to embrace a summer activity program and it is every bit as successful as their winter season!
I really enjoyed the mountain and highly recommend it especially to families looking to get their children into a good ski school on a mountain with some challenge as their expertise on skis improves.
I bet you can get the best tan ever when spring skiing at Bromley……….
Enjoy – and until next time!