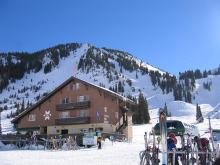 Go online and you won't see Alta (www.alta.com) tagging itself as a resort! Nope – a ski area and that it is!  Alta started out as a mining area in the 1800s.  Collins struck rich ore in the mountain area later selling his interests on the east side of the Peruvian Hill in 1900.  A lodge stands on that historical prospecting site now…since then it has developed into a real ski destination!
Over the years many more prospectors sold off their investments in mines to grow Alta to a skiable 2,200 acres with a summit elevation of 10,550 feet and a 2,020 foot vertical drop.  Visitors to the top will find the air thin even at its base of 8,530 feet above sea level.  With a noted 116+ runs it is the + driven by the bowls and couloirs that increase the run options.
Since 1939 and the installation of the fifth chairlift in the US, Collins chairlift began loading skiers up the gulch for some great terrain experiences.  Seventy-five years later there are a myriad of lifts connecting and bringing skiers some of the most challenging terrain to ski.  Steeps and bowls abound for the intermediate and expert skiers to enjoy.  This is not a ski area for the faint of heart.
Take in the view of the Devil's Castle from the Sugarloaf Lift and then ski the bowl for some challenging and fun skiing.  Of course some hiking will be involved so, be prepared to get a little winded just to get there but very proud of your achievement when done!
On skier's right at the top of the Sugarloaf lift you will see the top of the connector left between Alta/Snowbird.  Having skied Snowbird prior to taking on this goal I purchased the Alta only ticket but for a small additional fee you have access to both mountains.  Snowbird (www.snowbird.com) is also not for the faint at heart with helicopter skiing available and the Cliff Hotel with its roof top pool not to be missed (www.snowbird.com/lodging/theclifflodge/).  
 If you are a skier you are welcomed at both resorts.  However, snowboarders are only welcomed at Snowbird and restricted at Alta.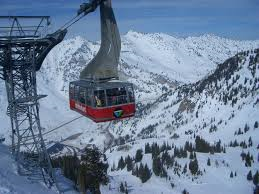 Depending on your skiing level you need the full day to give Alta a fair ski.  There is so much to ski some planning before you load your first lift is a good idea. As for grabbing lunch I recommend the Collins Grill mid-mountain in line with the Collins Lift.  You can't get off the Collins Lift mid-mountain at the lift elbow turn so ride to the summit and ski down. You won't be disappointed. Located on the third floor of the Watson Shelter, I recommend during busy holiday periods you make a reservation by calling them at 801-799-2297.  You walk in and find a seating area to remove your boots and put your feet in some comfy slippers as you enjoy a wonderful dining experience equal to dining on the slopes in Europe.  The restaurant looks over the Collins Gulch runs and bowls and encourages some wonderful discussions about the next runs you will make after lunch.  Such dining experiences on the slopes are unusual in the US in my experience and they are welcomed.  We often eat a tasteless burger in an aluminum packet and welcome the sustenance without enjoying our food.  Skiing such an area is such a great experience, why not make it extra special by enjoying the food we eat as well when a wonderful dining experience like the Collins Grill is there for the enjoyment.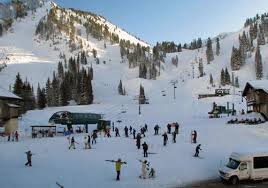 My day started and ended at the Wildcat Base.  There is plenty of après-ski activity at the base for anyone wanting to play after an exhilarating day of skiing.  As a skier enjoy Alta and Snowbird but I bet you can't enjoy both fully in one day!